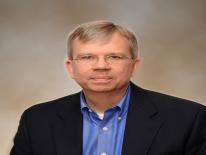 Executive Director, Office of Management and Administration
Paul Lundquist serves as executive director of the OCFO's Office of Management and Administration (OMA). He was appointed to this position in December 2004. As head of OMA, Lundquist oversees the contracts and procurement, support services, and financial operations functions within the OCFO. He previously served for five years as agency chief financial officer and two years as agency controller.
Lundquist began his career in the District government in 1986 as a budget analyst with the Department of Finance and Revenue (DFR), now known as the Office of Tax and Revenue. While with DFR, he automated the agency's spending forecasts, position management, and fund control.
Prior to District service, Lundquist worked for six years in Mississippi in community development, and served as the financial director of a network of rural health centers.
Lundquist has a master's degree in public and private management from the Yale School of Organization and Management and a bachelor's degree in economics from Stanford University.