Annual Operating Budget and Capital Plan
For more information on the documents presented here, contact the Office of Budget and Planning at (202) 727-6234.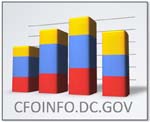 View and explore the District's operating budget with the interactive CFOInfo dashboard. Includes quarterly data on current-year operating budget and expenditures.
Budget Documents
FY 2015
FY 2014
FY 2014 Summary Table Including Increase to Local Funds Budget Based on Additional Revenue
Fiscal Year 2014 Operating Budget Chapters and Operating Appendix Tables and Capital Budgets by Agency
Note: A .zip file of all the budget files above is also available.
Download the 2014 .zip file here. (Updated August 8, 2013.)
The .zip file is approximately 63 MB, so it may take some time to download.
FY 2014 Budget -Supplementary Materials
FY 2013
Fiscal Year 2013 Revised Budget
Adopted by Council on May 7 and Signed by Mayor on May 23:
Fiscal Year 2013 Budget (Approved)
FY 2012
Fiscal Year 2012 Operating Budget Chapters and Operating Appendix Tables and Capital Budgets by Agency
For prior year budgets or more information about the budget process, select from the following: