Deputy Chief Financial Officer for Financial Operations and Systems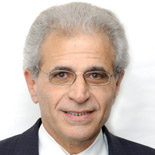 Anthony F. Pompa is the Deputy Chief Financial Officer (Deputy CFO) for Financial Operations and Systems. Mr. Pompa and the team at the Office of Financial Operations and Systems (OFOS) are responsible for maintaining the District's general ledger (official "book" of financial records), producing the city's Comprehensive Annual Financial Report (CAFR) each year, and providing a broad range of payroll and retirement related services.
Mr. Pompa joined the District government in February 1997 as the Associate CFO for Financial Operations and Systems and was appointed to his current position in June 1998. Since his appointment as Deputy CFO, the District's accounting operations and financial reporting practices have improved significantly. Through his leadership, the District has consistently issued its CAFRs in a timely manner, with unqualified (or "clean") audit opinions each year for more than a decade. In addition, during each year of his tenure, the District has received the prestigious Certificate of Achievement for Excellence in Financial Reporting from the Government Finance Officers Association (GFOA).
Prior to joining the District government, Mr. Pompa worked in several different capacities for the City of Baltimore for approximately 20 years. As an Accounting Manager, he performed capital budget analyses and prepared and proposed recommendations for the city's annual capital budget, which at that time was approximately $200 million. In that capacity, he was also responsible for producing the City of Baltimore's CAFR. As an Accounting Systems Analyst with the City of Baltimore, Mr. Pompa was responsible for preparing the city-wide cost allocation plan and designed a grant accounting management system. Mr. Pompa also served as the Chief Financial Officer for the Baltimore City Foundation, Inc., where he managed the daily accounting and financial management operations.
Before entering public service, Mr. Pompa was the Controller for the Baltimore Center for the Performing Arts, Inc., where he was responsible for the business operations of the Morris A. Mechanic Theater.
Over the years, Mr. Pompa has received numerous awards and honors for his dedication to public service. One such honor was the Cafritz Award, which he received during fiscal year 2007. Mr. Pompa was recognized by the Morris and Gwendolyn Cafritz Foundation as one of five distinguished District of Columbia employees for 2006. The Cafritz Foundation recognized Mr. Pompa for his efforts toward improving the District's accounting operations and payroll administration practices, which contributed greatly to the dormancy of the Financial Control Board and led to numerous upgrades in the District's bond ratings.
Mr. Pompa holds a Bachelors degree from Loyola University Maryland.