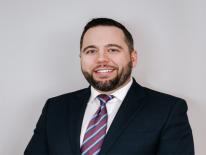 Jeff Gander is the continuous improvement officer for the Office of the Chief Financial Officer (OCFO), Washington DC. As a change leader and transformation executive, Gander is responsible for modernizing the OCFO enterprise, improving operational efficiency, and driving the value-based SMARTER culture.
He is a strategic and diplomatic leader with 20 years experience in a variety of markets and domains. He has worked for, or with, many organizations in the public and private sectors to help teams produce quantifiable results that will endure. He has worked in marketing at America Online and Monster.com, program management for Booz Allen Hamilton, and acted as a leading consultant to the Missile Defense Agency, Federal Bureau of Investigation, Department of Treasury, U.S. Navy, U.S. Army, U.S. Air Force, Consumer Product Safety Commission, and the Federal Deposit Insurance Corporation. He also led technical project teams with Boeing, Lockheed Martin, Northrup Grumman, MITRE, Deloitte, Accenture and KPMG.
He graduated from Clemson University (South Carolina), with a bachelor's in business management and a minor in technology information systems. He also earned a Change Management Advanced Practitioner certification from Georgetown University in Washington, DC, and a Measuring and Improving Business Performance certificate from Cornell University's Johnson Graduate School of Management, New York.
Gander currently serves on the Board of Directors for Main Street Child Development Centers, a non-profit that helps provide daycare and schooling for lower-income families. He is also a passionate supporter of the Chesapeake Bay Foundation and Inland Bay Foundation.
He resides in Ashburn, Virginia, and enjoys golf, fishing, and spending time with his family.