Mayor's Arts Awards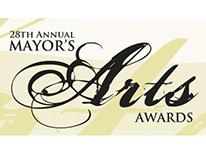 The Mayor's Arts Awards and Mayor's Awards for Arts Teaching are the most prestigious honors conferred by the city on individual artists, teachers, nonprofit organizations and patrons of the arts. The D.C. Commission on the Arts and Humanities will present the 28th Annual Mayor's Arts Awards on Tuesday, October 22, 2013 at 7:00 PM at the Warner Theatre. In addition to revealing winners in five arts and three teaching categories, the program will celebrate the District's creative industries in the arts and entertainment community with Helen Hayes Award Winner 2013 Outstanding Supporting Actress, E. Faye Butler as Mistress of Ceremony.
Artists and organizations will be recognized in five categories: Excellence in an Artistic Discipline; Excellence in Service to the Arts; Innovation in the Arts; Outstanding Contribution to Arts Education and Outstanding Emerging Artist. The awards are limited to individuals and nonprofit organizations that reside in the District of Columbia.
The Mayor's Awards for Arts Teaching are limited to full-time arts teachers who are employed by a District of Columbia elementary, middle or high school. The three categories for arts teaching are Excellence in Teaching Performing Arts, Excellence in Teaching Visual Arts and Excellence in Teaching Language Arts. Teachers in all artistic disciplines (visual arts, music, theatre, dance or humanities-based) are eligible for nomination.
Submissions are now closed.