Get a Green Permit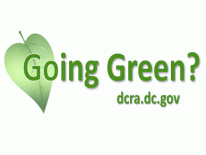 Green building cuts down on buildings' environmental, economic, and social impacts – by making them cost-effective, energy efficient, sustainable, safe, healthy, and productive. It's an integrated approach to planning, designing, building, and maintaining buildings and their landscapes.
In the US, buildings are responsible for 36 percent of total energy use, 30 percent of greenhouse gases, and 30 percent of raw material use.
Building green can:
Enhance your profits and your assets' value
Improve air and water quality
Improve employee productivity and satisfaction
Protect ecosystems and biodiversity
Reduce operating costs and solid waste
Improve health and reduce health problems, like asthma
Conserve natural resources
Contribute to our overall quality of life
What is the DC Green Building Act?
The Green Building Act of 2006 phases in green building in DC. It requires commercial buildings to be certified, using the Leadership in Energy and Environmental Design (LEED) Green Building Rating System. LEED is a nationally-acclaimed benchmark for green building design, construction, and operation; it's a whole-building approach to sustainability.
It also reqires residential buildings to meet Green Communities standards. The Green Communities checklist provides a clear, cost effective way to green multi- and single-family buildings. To learn more, visit GreenCommunitiesOnline.org. The Act also launches a green building incentive program, a Green Building Fund and a Green Building Advisory Council.