Kathy Crader
Chief Risk Officer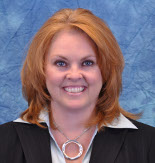 Kathy Crader was appointed chief risk officer to the Office of the Chief Financial Officer (OCFO) in June 2009. Crader is responsible for identifying, assessing, reporting, monitoring and mitigating the strategic, operational, reputational, financial and technological risks within the OCFO. She is also charged with establishing and institutionalizing an integrated risk management framework.
Crader brings over 16 years of professional risk management experience in both the banking and consulting sector. Crader formerly managed operational and regulatory risk for Wachovia Bank and Bank of America. She designed and implemented an Internal Control Program for Wachovia's small business portfolio. She was part of the Operational Risk Committee that consulted on operational risk issues for the Commercial Loan portfolio. She was also responsible for the development of an overall Basel II compliance program for both Wachovia and Bank of America's commercial loan portfolios.
Crader holds a master's in business administration from Mercer University and bachelor's from the University of Maryland. She also holds a Six Sigma Black Belt from Villanova University.