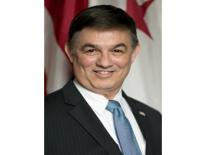 Jeffrey S. DeWitt is the chief financial officer (CFO) for the District of Columbia and is responsible for the District's finances, including its approximately $13.4 billion budget, the majority of which ($8 billion) is generated from local revenue sources. He also manages the city's $6.3 billion capital improvement plan budget. Mr. DeWitt was appointed to this position by Mayor Vincent C. Gray and confirmed by the city council to complete Natwar M. Gandhi's five-year term through June 2017.
As the independent CFO, Mr. DeWitt manages the District's financial operations, which include more than 1,000 staff members in tax and revenue administration; the treasury, comptroller and budget offices; economic/fiscal analysis and revenue estimation functions; all District agency financial operations; and the DC Lottery. He is also responsible for coordinating with congressional committees and the US Office of Management and Budget staff that oversee District affairs. He regularly interacts with the financial community, including rating agencies, regarding the District's financial matters.
Previously, Mr. DeWitt served as CFO for the city of Phoenix, the 6th largest city in the United States with a $3.4 billion annual budget and nearly 15,000 employees. There, he managed a $7 billion debt portfolio and more than $2 billion in investments. He was a member of the city of Phoenix Employees Retirement Board, the Phoenix Community Development Investment Corporation, the Phoenix Downtown Hotel Corporation and Arena Development Board.
As CFO for the District of Columbia, Mr. DeWitt sits on the boards of the Washington Convention and Sports Authority (EventsDC) and Destination DC.
Jeffrey DeWitt is a member of the Government Financial Officers Association (GFOA), the American Accounting Association (AAA), Association of Government Accountants (AGA), and the American Water Works Association (AWWA).
He holds a master's degree from Southern Illinois University, Carbondale, and a bachelor's degree from Eastern Illinois University.